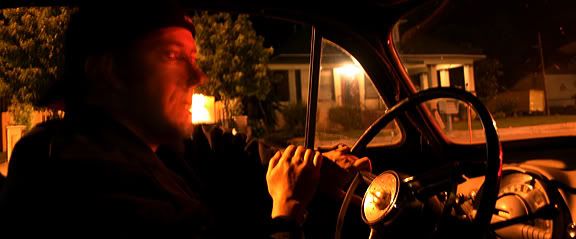 Basic Bio and History...
Born in Baltimore, Maryland. In 1992, I graduated from The Maryland Institute College of Art with a BFA. Spent several years working in different shirt shops and picking up freelance jobs around the east coast. In 1996 I moved to New Jersey to attend The Joe Kubert School of Cartoon and Graphic Art. That period of time allowed me to dig into New York City and open up to the idea of larger markets.
Shortly afterwards, in 1998 I relocated to the west coast and worked for Powell Skateboards in Santa Barbara, California. Southern California has been a huge catalyst in helping me to develop the fine art end of my work. Along the way, I've also fed a nasty habit for photography and anything related to old cars. I was lucky enough to meet other like minded creative types and we began to put together our own group shows and events. At the same time, started working freelance for Icon Motosports doing helmet and jacket work.
In early 2006, I moved to Los Angeles and set up shop downtown. I landed a job working for West Coast Choppers in Long Beach and took my place in L.A. traffic. In 2008 I returned to full time freelance work. Everything is a work in progress. Some previous and current clients include, 20th Century Fox - (Sons of Anarchy, The Simpsons, The Strain), SA Studios (Assasins Creed, LA Galaxy), TSG helmets, Borst surfboards, Shaun White and more.
2006 - 2016 Currently residing in Los Angeles, California
1998 - 2005 Santa Barbara, California
1996 - 1998 Dover, New Jersey
1970 Born in Baltimore, Maryland
Education
1997 Joe Kubert School of Cartoon and Graphic Art, Dover, NJ
1992 Maryland Institute College of Art, BFA, Baltimore, MD

Groups / Associations
2011 Los Angeles Art Association
Exhibitions / Shows
2016 Local, solo show, the Overflow, Los Angeles, CA
2015 Wear and Tear: The Joy and Frustrations of a Line Junkie, solo show, Sam Francis Gallery
Crossroads School for Arts & Science, Santa Monica, CA
2015 Amuse Bouche, group show, Sugar Mynt Gallery, Pasadena, CA
2015 The Art Classic, group show, Millard Sheets Art Center, Pomona, CA
2015 Amuse Bouche, group show, Sugar Mynt Gallery, Pasadena, CA
2015 Coffee Art, two person show, Gronk Lobby Gallery, Los Angles, CA
2014 Dia de los Muertos, group exhibition, National Museum of Mexican Art, Chicago, IL
2014 Disrupting Facial Recognition, solo show, Gronk Lobby Gallery, Los Angles, CA
2014 Scratch, group exhibition, El Segundo Museum of Art, in conjunction with the Getty
Black Book project, El Segundo, CA
2014 Proof of Life, group show, Gronk Lobby Gallery, Los Angeles, CA
2013 Chatter, solo show, Gallery 825, Los Angeles Art Association, Los Angeles, CA
2013 Under Construction, group show, Grey Building, Los Angeles, CA
2012 1099'd, solo show, Hold Up Art Gallery, Los Angeles, CA
2012 One Night Stand, group show, Art From Scrap, Santa Barbara, CA
2011 L.A. Invasion, Comikaze Expo, Los Angeles, CA
2011 Revival 2011, group show, Self Help Graphics, Los Angeles, CA
2011 Still Brewed, Angel City Brewery, group show, Los Angeles, CA
2011 One Night Stand, group show, Art From Scrap, Santa Barbara, CA

2010 Idol Hours, group show, London Miles Gallery, London, UK
2010 The Electric Holiday Art Show, group show, The Goddess B Gallery, Venice, CA
2010 Duality, group show, CB Gallery, Los Angeles, CA
2010 Not for Reproduction, group show, Goodfoot Gallery, Portland, OR
2010 Love in Art, group show, Coppola Art Exchange Gallery, Beverly Hills, CA
2010 Hunt and Gather, group show / book release, Thinkspace Gallery, Culver City, CA
2010 Hive's Five Year Anniversary Show, group show, Hive Gallery, Los Angeles, CA
2010 Hive's May Show, group show, Hive Gallery, Los Angeles, CA

2009 Thrice, Three person show, Art From Scrap, Santa Barbara, CA
2009 DIY Pusher Show, Munky King Gallery, group show, Hollywood, CA
2009 Glue Network Mural, Temporary outdoor group installation, Encinitas, CA
2009 Rip the Ripper, group show, ASR San Diego Convention Center, San Diego, CA
2008 I am 8 Bit, group show, World of Wonder, Hollywood, CA
2008 Top of the Dome, group show, Crewest Gallery, Los Angeles, CA
2008 The Downtown Skyline Exhibition, group show, CB Gallery, Los Angeles, CA
2008 Movers and Shakers, Exit productions, group show, Salon Sessions, Pasadena, CA
2008 Travel and Document, group show, Scion Installation Space, Culver City, CA
2008 Gone By, Two person show, Art Resources, Santa Barbara, CA
2008 Cannibal Flower, Annual group show, Los Angeles, CA
2008 Hive's August Show, group show, Hive Gallery, Los Angeles, CA

2007 Color Blind, group show, Project Gallery, Culver City, CA
2007 Cannibal Flower, Annual group show, Los Angeles, CA

2006 Novus Ordo Seclorum, group show, Copro Nason Gallery, Santa Monica, CA
2006 East 2 West, Three person show, Thinkspace Gallery, Los Angeles, CA
2006 Bloom Project, Two person installation, Contemporary Arts Forum, Santa Barbara, CA
2006 Cannibal Flower, Annual group show, Los Angles, CA
2006 Deck the Walls, Solo Exhibition, Lost Souls Cafe, Los Angeles, CA

2004 Works in Progress 2, Three person show, Shea Studio, Santa Barbara, CA
2004 The Art of Musical Maintenance, group show, Goodfoot, Portland, OR

2003 Pulse, group show, Santa Barbara, CA
2003 Works in Progress, Three person show, Haley Studio, Santa Barbara, CA

2002 Cinergy Six, group show, Santa Barbara, CA
2002 Formulations, group show, Contemporary Arts Forum, Santa Barbara, CA
2002 Focus on the Forum, Annual group show, Contemporary Arts Forum, Santa Barbara, CA

2001 Cinergy Five, group show, Santa Barbara, CA
2001 Focus on the Forum, Annual group show, Contemporary Arts Forum, Santa Barbara, CA

2000 Cinergy Four, group show, Santa Barbara, CA
2000 Focus on the Forum, Annual group show, Contemporary Arts Forum, Santa Barbara, CA

1999 Cinergy Three, group show, Santa Barbara, CA
1999 Art-Volution, group show, Mercury Lounge, Goleta, CA
1999 Film Roman Level 13, group show, Rico Gallery, Santa Monica, CA

Collections
Self help Graphics, Los Angeles, CA
University of California Santa Barbara CEMA archives
Los Angeles County Museum of Art print department
Laguna Art Museum, Laguna Beach, CA
Galeria Sin Fronteras, Austin TX
Mexican Fine Arts Center Museum, Chicago, IL
Work History
2004 - 2011 Icon Motosports, Portland, OR
2005 - 2007 West Coast Choppers, Long Beach, CA
1998 - 2005 Powell Skate One, Santa Barbara, CA